Overhead doors operate on a counterbalancing system where springs under tension transfer lifting force through cables. Garage doors have a cable installed on each side of the door connecting the drums to the bottom bracket fixtures.
Like all metallic moving parts on your door system cables experience wear and tear over time causing garage doors to malfunction. Over time cables rust, fray, snap or simply slip off the drums.
Cables come in a variety of lengths, diameters, styles and materials to best fit each individual door application. The most common types of cables are torsion cables, extension cables and safety cables.
The more popular cables come in standard stock sizes, but cables can also be highly customized for unique door setups like rear torsion cables, high lift cables and full vertical lift cables.
1. Types of Garage Door Cables
Torsion Cables – These cables consist of a plain loop end with a sleeve that hooks around the bottom brackets. They also contain a stop end that fits into the groove of the drums.
Standard torsion cables are typically the door height +18″. The added length of the cable is designed to wrap around the drums to take all force off the stops.
Non standard torsion cables designed for high lift, full vertical lift, rear torsion or follow the roof pitch applications must be calculated with garage door engineering software.
Residential doors utilize 3/32″ and 1/8″ torsion cables while commercial doors may require 5/32″ , 3/16″, 1/4″ or 3/8″ depending on the garage door weight.
Extension Cables – Designed for doors utilizing extension or stretch springs, these cables differ from torsion in that they are much longer and typically only include a loop (sleeve) end. In situations where fraying is a concern a stop can be added. These cables are typically 3/32″, 1/8″ and 5/32″ and almost exclusively used on residential doors where headroom is a concern.
Safety cables, also called containment cables run through the hollow area of extension springs. When extension springs break these cables prevent pieces of spring from flying around the garage damaging person or property.
2. Parts of Garage Door Cables
Cables are composed of parts called loops, sleeves, thimbles, spools,clips and stops. First you have a loop end which attaches to the button on your doors bottom brackets. The looped end should be large enough to fit over the button on the bottom brackets, but small enough that it won't slip off when the door is overhead.
Most cables break at or near the loop end of the cable due to both the force of the door weight and their proximity to the ground.
Loop ends are secured by a piece called a cable sleeve. These piece have two grooves where the cable enters to make the loop through crimping. This is similar action to attaching a sinker to a fishing line.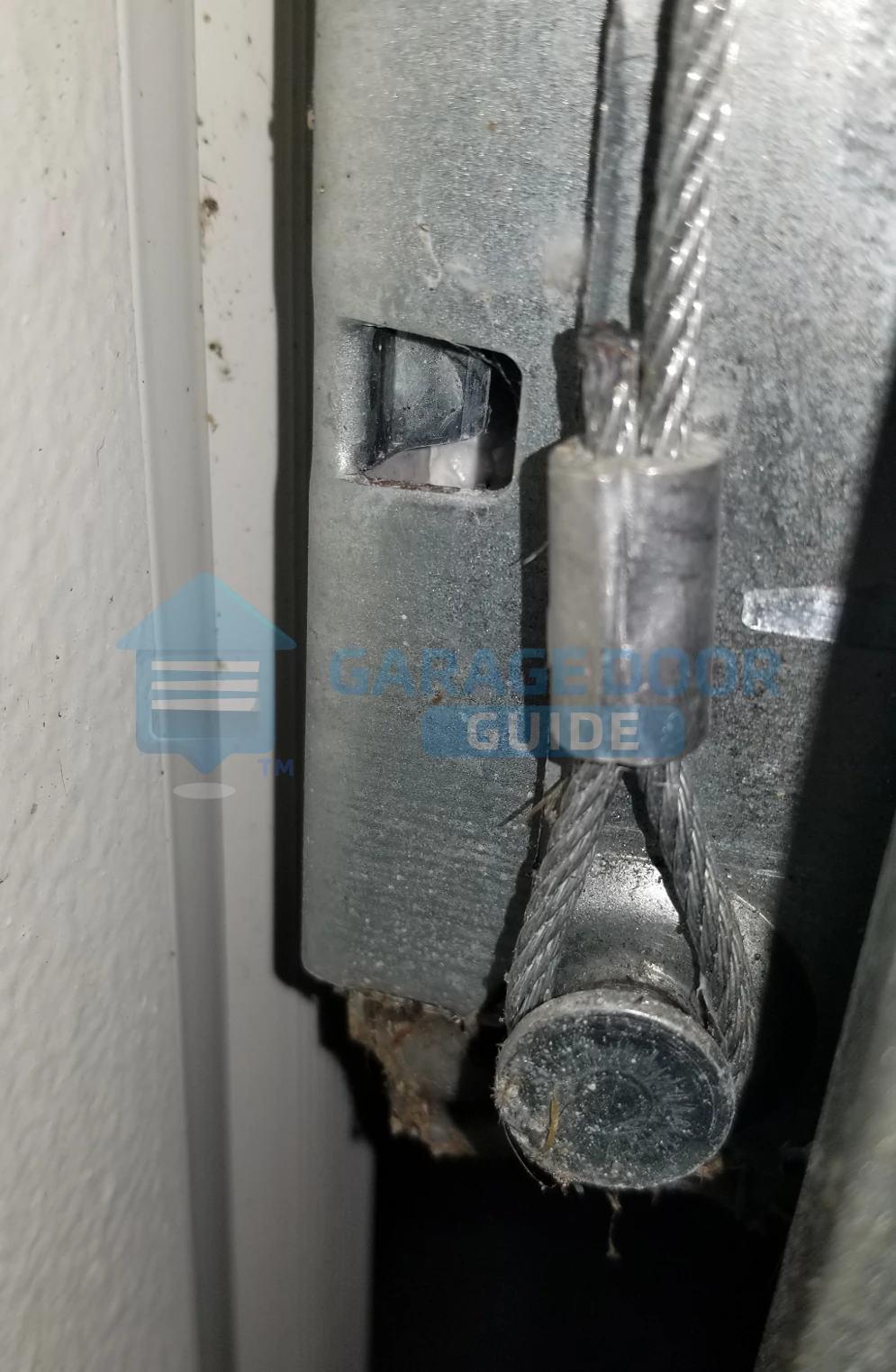 Sometimes looped ends are reinforced with steel
thimbles
,
spools
or
clips.
 These thimbles are installed inside the looped end of the cable to protect them from excess wear from friction.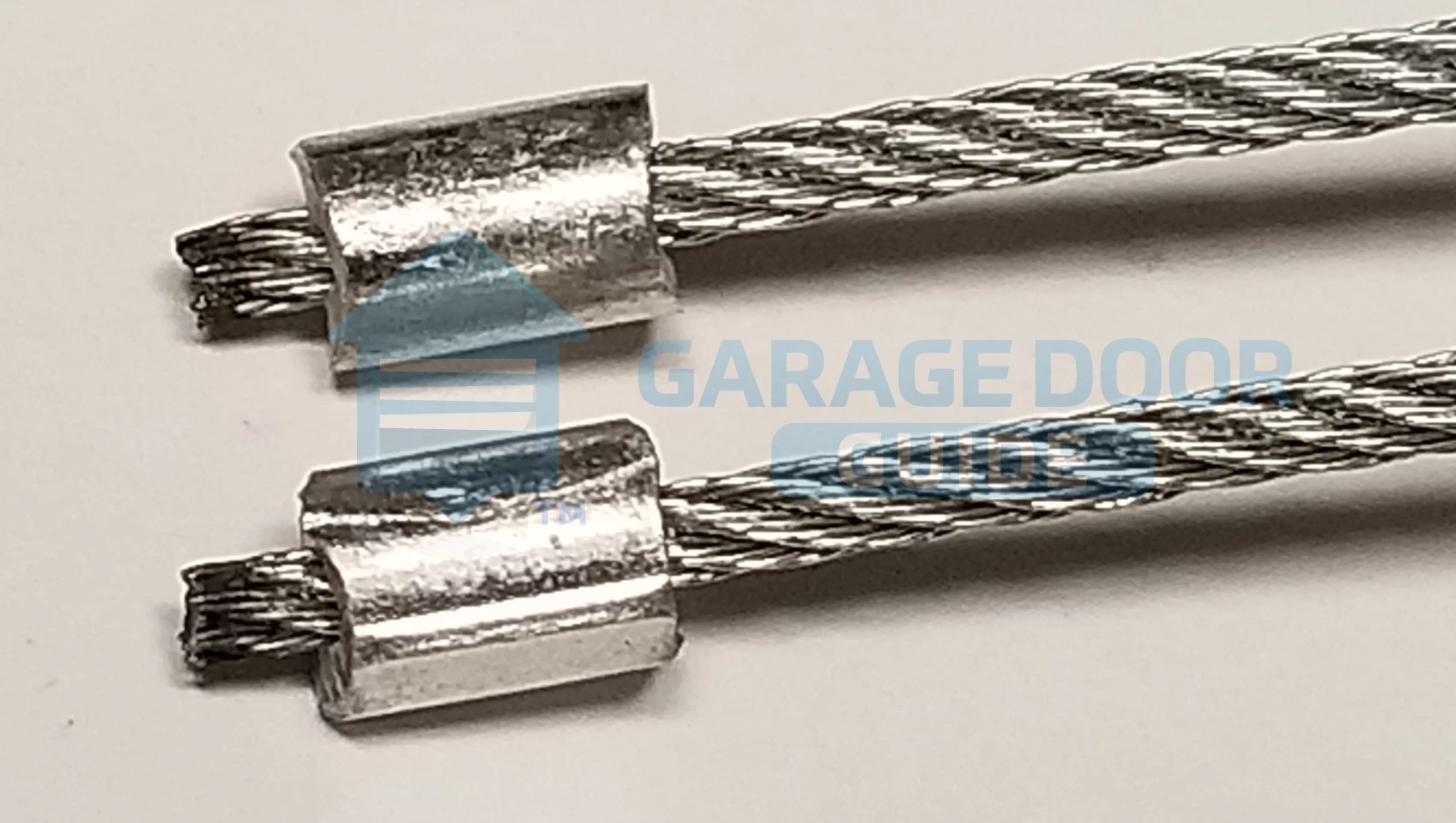 At the other end of the cable stops are installed. Stop ends are attached in the cable drums by a small interior notch. This helps the cable properly enter the grooves on the drums and keeps the cable from slipping off. Stop ends also help keep the strands on the cable from fraying.
3. Garage Door Cable Diameter
The diameter of the cable is directly correlated to both its breaking strength and working load limit. Larger cable diameters are used on heavier doors.
Thicker diameters also provide added protection against fraying, corrosion, rust, dents and cuts.
Light weight residential doors can use 3/32″ or 1/8 inch diameter. Larger residential doors or heavier wood doors often require 5/32″ diameter.  Commercial doors can use 5/32″ diameter up to 3/16″ for industrial applications.
The type of drums the garage door uses will limit the size of cable that can be used since the grooves on the drums can only accommodate up to a certain manufacturer specified wire diameter.
For example a common residential drum is the OMI-8. These cables have a maximum threshold of 1/8″ although they also support the smaller 3/32″ diameter.
Generally speaking you should use the maximum diameter cable specified by the drum manufacturer for increased durability and longevity. 
4. Breaking Strength vs Working Load Limit
Breaking strength refers to the maximum force the cable can handle before failing (breaking or tearing). Working load limit (WLL) refers to the force your cables can be regularly subjected to on a daily basis.
Since most residential garage doors weigh less than 340 lbs, standard galvanized 7×7 by 1/8″ cable assemblies can be used with OMI-8 drums.
For heavy wood doors weighing over 340 lbs a larger diameter 5/32″ cable can be used with the larger OMI-12 drums.
The cable safety factor (SF) is the breaking strength compared to its work load limit (WLL). Garage door cables have a safety factor of 5:1.
A standard 1/8″ 7×7 torsion cable has a breaking strength of 1,700 lbs and a working load limit of 340 lbs (1700/5=340). Any garage door weighing under 340 lbs is can use standard 1/8″ 7×7 galvanized cable. 
Breaking Strength
| Cable Diameter | Galvanized 7x7 | Galvanized 7x19 | Stainless Steel 7x7 | Stainless Steel 7x19 | Zinc 7x19 |
| --- | --- | --- | --- | --- | --- |
| 1/16" | 480 lbs | N/A | 480 lbs | N/A | N/A |
| 3/32" | 920 lbs | 1,050 lbs | 920 lbs | 920 lbs | N/A |
| 1/8" | 1,700 lbs | 2,000 lbs | 1,700 lbs | 1,760 lbs | 1,000 lbs |
| 5/32" | 2,600 lbs | 2,800 lbs | 2,600 lbs | 2,400 lbs | N/A |
| 3/16" | 3,700 lbs | 4,200 lbs | 3,700 lbs | 3,700 lbs | 4,200 lbs |
| 1/4" | 6,100 lbs | 7,000 lbs | 6,100 lbs | 6,400 lbs | N/A |
| 3/8" | N/A | 14,400 lbs | N/A | 12,000 lbs | N/A |
Breaking strength only shows the maximum force the cable can endure before failing. That does not mean it can handle that specific load on a daily basis over time.
Working Load Limit
| Cable Diameter | Galvanized 7x7 | Galvanized 7x19 | Stainless Steel 7x7 (304) | Stainless Steel 7x19 (304) |
| --- | --- | --- | --- | --- |
| 1/16" | 96 lbs | N/A | 84 lbs | 84 lbs |
| 3/32" | 184 lbs | 200 lbs | 162 lbs | 162 lbs |
| 1/8" | 340 lbs | 400 lbs | 302 lbs | 306 lbs |
| 5/32" | 560 lbs | 600 lbs | 480 lbs | 422 lbs |
| 3/16" | 740 lbs | 840 lbs | 642 lbs | 700 lbs |
| 1/4" | 1220 lbs | 1400 lbs | 1160 lbs | 1200 lbs |
| 3/8" | | 2800 lbs | 2,200 lbs | 2200 lbs |
For the purpose of garage door cable repair and replacement, weight working load limit (WLL) should be used. Never exceed the limits shown in the chart. When in doubt, upgrade to the next highest cable diameter and corresponding drum size.
Garage doors weighing up to 184 lbs can use 3/32″
Garage doors weighing up to 340 lbs can use 1/8″
Garage doors weighing 341 lbs to 560 lbs can use 5/32″
Garage doors weighing 561 lbs to 740 lbs can use 3/16″
Garage doors weighing 741 lbs to 1220 lbs can use 1/4″
5. What are garage door cables made of?
Most garage door cables are made out of 7×7 galvanized aircraft cable (GAC) due to the balance of strength, durability and price.
Strengthening the steel in cables is accomplished through a process known as "hot-dip galvanizing" (HDG). This involves immersing the cables in molten zinc forming an outer layer of corrosion protection. For more detailed information on this process visit GalvanizeIt.org.
The average homeowner should use 7×7 or 7×19 standard galvanized aircraft cable (GAC) on their overhead door. A few other options are available for added rust protection in special circumstances.
Galvanized Steel (Hot Dip) – Standard garage door cable with some corrosion protection at the lowest cost.
Zinc-Aluminum Coated Steel – About 3x more corrosion resistance than galvanized steel cable, at 50% higher cost, at a lower price than SSC.
Stainless Steel – Maximum corrosion protection, at 200% higher cost. Best used on high moisture environments like cash wash and box truck doors.
For damp environments, stainless steel or zinc-aluminum should be used for maximum corrosion protection. Zinc-aluminum coated cables offer 300% greater corrosion protection than standard galvanized cables, at a lower cost than stainless steel cables.
ZN-AL cables have a protective coating made up of 95% zinc and 5% aluminum. The 5% aluminum content in the cables will oxidize forming a protective layer over time.
6. Why do garage door cables break?
Cables are designed to withstand heavy weight and wear over time, but even highly rated garage door cables will break under the right circumstances. The most common reasons for cables breaking include corrosion and friction.
Cables are exposed to year around moisture and even salt during winter months in northern states. This causes them to rust, especially at the loop end which sits low to the ground on the bottom brackets.
Often the loop end of the cables is the first thing to break. This is especially true for truck door cables which are exposed on the outside of the box truck door.
Friction also causes cables to fray and eventually snap. Track and door hardware come into contact with cables due to improper installation or broken parts. The loop end of the cable attached to the bottom brackets often breaks from slack build up in the cables. This can trigger from cables slipping off the drums or torsion springs breaking.
The force generated by a falling door through gravity and momentum is several times that of a door at standstill, similar to slack in a fishing line.
7. How much does it cost to fix garage door cables?
The cost of replacing garage door cables varies depending on a few factors like door size, location, hours and the garage door professional you contact. On average, you can expect to pay around $100-$150 for garage door cable repair during standard hours and $200 for emergency service. This estimated service charge includes a replacement set of cables and labor charges.
Torsion, extension and safety cable replacements also make great DIY projects if you have required handyman skills and tools. You will also need a ladder, vice grips, winding bars and a new set of cables.
If you are unable to do the repair yourself consider calling a garage door professional. Garage door cables are under tension from the springs and can be dangerous to untrained individuals.
Galvanized steel garage door lift cables cost about $15 per pair. Stainless steel box truck cables run about $20 per pair . Service call labor from door professionals are more costly. Charges vary by location and market but most service calls for cable repair are around $100-$150 during normal hours.
A professional overhead door service call might be worth the investment. An experienced door professional will not only replace and reset your cables, but will also look for other door performance issues.
Often times broken springs, track and drum adjustment issues accompany thrown cables. Broken cables are often a sign of an underlying issue with your overhead door.
8. Can you open the garage door with a broken cable?
Springs distribute tension through the cables to counterbalance your garage door. In the event that one or both of your cables snap you may have to lift the full weight of your garage door without assistance.
Dead lifting your garage door off the ground is no easy task. Garage doors can weigh several hundred pounds so be sure to always get assistance.
If you need to get the door open immediately to get a vehicle out you will need to dead lift the door open and then clamp off the door with multiple sets of vice grips. Otherwise you run the risk of the door slamming down to the floor and causing damage or injury. Vice grips should be applied to the track on each side of the door under the rollers.
Never attempt to open your garage door using an automatic opener when the cables are broken or have slipped off the drums. The extreme weight of the garage door will cause damage to the gear mechanism inside your opener.
9. What length garage door cables do I need?
To determine what standard lift torsion cables you need measure the height of your garage door and add +18 inches.
For extension spring cables you will need to measure the height of your door and add +60 inches. If you are unsure simply measure your existing cables being sure to include the loop and stop ends.
Standard lift 7ft tall door torsion cables measure 102″ (84″ + 18″) and extension cables measure 144″ long (84″ + 60″).
Standard lift 8ft tall door torsion cables measure 114″ (96″ +18″) and extension cables measure 156″ long (96″ + 60″).
Most garage doors use standard lift torsion systems. For lightweight doors or garages that lack headroom extension springs are sometimes used. For torsion springs cables must be long enough to connect the bottom bracket to the drum. That means the full door height, plus the space above the opening, plus a little extra so the cables can wrap around the drums.
For extension springs cables must be long enough to run from the bottom bracket, through the sheaves and pulleys and connect to the extension springs. Safety containment cables that run through the interior of the extension spring can be slightly shorter. In the event the extension spring breaks these safety cables prevent pieces of the spring from flying all over the garage.
If you accidentally order cables that are too short the cables simply won't reach the full length of the bottom brackets to the drums. Torsion cables must wrap around the drum so excessive force isn't applied to the stop end in the groove of the cable drum. Or in the case of extension springs, from the bottom bracket to the extension spring.
On the other hand ordering cables that are too long generally isn't much of an issue. Torsion spring cables drums can usually accept longer lengths of cable around the spool. If you order 8ft torsion cables (114″) for a 7ft tall door you can simply wrap the excess cable around the OMI-8 cable drums. These drums will accept 115″ of cable length without issue.
If you are in between two different sizes order the larger cable length. You can either cut down the cables shorter or wrap the excess around the drum. If your door has high lift, full vertical lift or rear torsion you will need to contact a door professional for cable engineering.
10. Standard Lift Cable Chart
| Door Height | Torsion | Extension | Diameter | Drums |
| --- | --- | --- | --- | --- |
| 6'6" | 96" | 138" | 3/32" - 1/8" | OMI-8ft |
| 7'0 | 102" | 144" | 3/32" - 1/8" | OMI-8ft |
| 7'6" | 108" | 150" | 3/32" - 1/8" | OMI-8ft |
| 8'0 | 114" | 156" | 3/32" - 1/8" | OMI-8ft |
| 8'6" | 120" | 162" | 1/8" - 5/32" | OMI-8ft |
| 9'0 | 126" | 168" | 1/8" - 5/32" | OMI-12ft |
| 9'6" | 132" | 174" | 1/8" - 5/32" | OMI-12ft |
| 10'0 | 138" | 180" | 1/8" - 5/32" | OMI-12ft |
| 10'6" | 144" | n/a | 1/8" - 5/32" | OMI-12ft |
| 11' | 150" | n/a | 1/8" - 5/32" | OMI-12ft |
| 11'6" | 156" | n/a | 1/8" - 5/32" | OMI-12ft |
| 12'0 | 162" | n/a | 1/8" - 5/32" | OMI-12ft |
| 12'6" | 168" | n/a | 5/32" - 3/16" | OMI-12ft |
| 13'0 | 174" | n/a | 5/32" - 3/16" | OMI-18ft |
| 13'6" | 180" | n/a | 5/32" - 3/16" | OMI-18ft |
| 14'0 | 186" | n/a | 5/32" - 3/16" | OMI-18ft |
| 14'6" | 192" | n/a | 5/32" - 3/16" | OMI-18ft |
| 15'0 | 198" | n/a | 5/32" - 3/16" | OMI-18ft |
| 15'6" | 204" | n/a | 5/32" - 3/16" | OMI-18ft |
| 16'0 | 210" | n/a | 5/32" - 3/16" | OMI-18ft |
| 16'6" | 216" | n/a | 5/32" - 3/16" | OMI-18ft |
| 17'0" | 222" | n/a | 5/32" - 3/16" | OMI-18ft |
| 17'6" | 228" | n/a | 5/32" - 3/16" | OMI-18ft |
| 18'0 | 234" | n/a | 5/32" - 3/16" | OMI-18ft |
| 18'6" | 240" | n/a | 5/32" - 3/16" | OMI-18ft |
| 19'0 | 246" | n/a | 5/32" - 3/16" | OMI-18ft |
| 19'6" | 252" | n/a | 5/32" - 3/16" | OMI-18ft |
11. Cable Construction 7×19 vs 7×7
Garage door cables come in 7×19 and 7×7 construction with both being very suitable options. The main advantages of 7×19 cables are flexibility and slightly added strength.
If you have trouble with your cables fraying or slipping off the grooves on the drums consider 7×19 construction. Otherwise standard 7×7 galvanized steel cables will work for most applications.
For heavier doors or doors that are high traffic, consider 7×19 cable construction. Light weight residential doors are suited for 7×7 cables. Examine your cables for signs of wear every time you replace your torsion springs.
12. How long do garage door cables last?
The life cycle of your garage door cables depends on factors like frequency of use, climate and quality of material. Generally speaking most cables last 10-15 years before needing replacement. 
Frequency of use is a big determining factor in cable longevity. Some garage doors are used for storage while others are used as the entry door. The life cycles of your garage door cables matches up to your springs. Typically 10,000-15,000 cycles is common before cables wear out.
Climate is another huge factor in cable life cycle. Geographic locations with a lot of moisture weaken cable integrity. This is especially true in cold northern states where snow and salt weaken cables near the loop end. Corrosion is a huge problem at the loop end of the cable due to their proximity to the ground.
Construction material also plays a huge role in long lasting cables. Garage door cables are available as galvanized aircraft cable (GAC), stainless steel (SSC) and Zinc-Aluminum coated steel. Each has a varying degree of corrosion resistance and cost.
For most homeowners galvanized steel 7×7 cables are sufficient. Certain applications might call for added rust protection in the form of stainless steel and zinc-aluminum coating. Car wash doors and trucks doors are common examples.
13. Inspecting Garage Door Cables
Garage door cables should be inspected for wear on an annual basis. Visible damage, distortion, corrosion, cracks, nicks, abrasions and color changes are the most common checkpoints for cable inspection.
If any of these signs are present in your cables replace them immediately. Cables are under extreme tension so they are prone to breaking, causing damage to person or property.
Verify that your replacement cables are the correct length, diameter and material for your specific application. Use the working load chart to better understand what cable types are needed for your specific garage door when ordering replacements.
To confirm working load limits you will have to weigh the door with a scale or contact the manufacturer for a door weight chart. Never exceed the weights and values specified in our WLL chart.
14. Finding The Right Replacement Lift Cables
In the event your garage door lift cables break or are showing signs of damage, it is important to find the correct replacement length, diameter, size and type. Measure your existing cables and order the exact same set.
If you don't have your existing cables available to measure you can find the correct cable replacement by measuring other parts your garage door. You will need door information like height, drum size, spring type and lift type.
Torsion cables are for springs that mount over the header of the door on a shaft.
Extension cables are for springs that mount on the sides of the door near the horizontal tracks to sheaves and pulleys.
After identifying what type of springs your door uses, you will have to identify the lift type.
Standard Lift Cables – Most doors are standard lift meaning the horizontal track radius curves near the header of the door. The cables for these doors are the height of the door + 18 inches for torsion spring systems and door height +60 inches for extension spring systems.
High Lift Cables – Some doors have special vertical track adders that allow the door to go further up the head before curving on to the horizontal tracks. These doors are called high lifted doors and they require longer cables and sometimes thicker diameter wire size.
Follow the Roof Pitch Cables – Garage doors can also follow the angle of the roof to maximize overhead space. Some common angles are 3/12 and 4/12 follow the roof pitch (FRP) and these doors require longer cables.
Full Vertical Lift Cables – Doors on commercial buildings sometimes don't curve overhead at all. Instead they go straight up the wall all the way open. Garage doors opening with full vertical lift require extremely long cables – at least twice the door height plus another 36-48″.
The type of drums used will largely depend on the lift type. Each type of lift has its own special drums used. Garage door drums hold the cables on each side of the door. Drums have specific door weight restrictions and cable diameters they are compatible with.
One of the most common residential drums is the OMI-8 standard lift drum. It can support up to 9'8″ of cable and 5/32″ cable diameter. The grooves on the drums determine what cable diameter is supported. Installing a diameter too large for the grooves will result in thrown cables. If your garage door is extremely heavy you will have to determine what each drum and cable combination is compatible before installation.